About Our Mill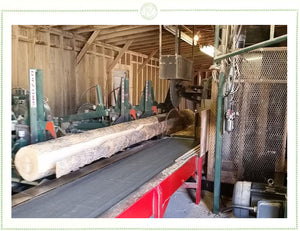 We start with logs, then saw, optimize, kiln dry, turn and finish into varnished finished handles, as well as other wood products.
Our mill, pictured above, was upgraded a few years ago.  We deploy Cleereman joystick control with four head blocks and 16' capacity.
The wood that we purchase is trucked into Peavey from all over the state of Maine, mostly from high grade timber yards that sort for our specific grades. Some of the timber comes from individual contractors who market their own wood.  We only use White Ash hardwood in lengths of 8' to 16' with appropriate trim.  We buy our logs in three grades: select, #1, and #2.  For the most part, the wood that we buy comes from certified sustainable forestry. Peavey supports Sustainable Forestry because forests affect us all. A very small percentage of the timber comes from private land owners who might be clearing land for non-forestry use. 
The logs are stacked on our wood lot adjacent to the mill compound. When the logs are delivered we sort them based on length, diameter, and quality. We then saw the timber in a way that produces the best yield for a given order or product. Once the logs have been sawn into lumber, they're run through our gang saw and made into squares.  The squares are graded and then feed through an optimizer and cut to clear lengths.  At this point the clear lengths are ready for the kiln drying process.  It takes 2-3 weeks for proper drying.
After drying, the clear lengths are ready for our turning machines. We run a few different Hawker and Jenkins dowel machines and several Taus pole machines. Hawker produced one of the world's first dowel machines in 1909. The equipment was so successful and reliable that no substantial redesign was done until 1948 when the company was acquired by East Dayton Tool and Die. Jenkins Machine Company was formed in 1916. They made equipment similar to Hawker. Today they're a major maker of CNC miter machines and CNC shapers. Sibo Engineering, an Italian firm established in 1830, makes our Taus pole machines. Taus machines transform dowels form 3/4" diameter to 2-1/2" diameter into shaped handles (e.g. rakes, hoes, shovels, etc.).
We sell our off-fall wood as low cost fire wood to the local community. All of our buildings throughout our facility are heated with the sawdust that we generate from our process, and whatever is left goes to local farmers for cattle bedding. There is almost nothing generated by the Peavey Mill that is not used-up one way or another.